Resilience Coaching Program
Our leadership team recognized early on that our physicians share in the widespread burnout phenomenon affecting American medicine. Fortunately, measures of burnout among Spectrum physicians show them to be happier in their work than their counterparts nationally.
To demonstrate our commitment to the wellbeing of our physicians, we have provided a variety of tools, resources, and programs to promote wellness and resilience.
One of our offerings is a resilience coaching program that helps support physicians' engagement with patients and colleagues while providing a sense of professional attainment. The program is a collaboration between coach and physician and provides a paradigm of self-care and self-efficacy, which is then applied directly to the physicians' personal work and life circumstances, with sustainable benefits.
When a physician's mental health is at stake, it can have adverse effects on the quality of their clinical work, career satisfaction, peer relationships, and overall engagement with patients. Program co-creators Les Schwab, MD, a community board member and Marianne Roy, MS, MEd, an organizational development consultant, along with program administrator Julie Wheeler, Spectrum's chief human resources officer, continue to highlight Spectrum's commitment to wellbeing and resilience.
One hundred percent of participants have rated the program a 10 on a scale of 1–10. Sample participant comments included:
"Coaching helped me to achieve a laser focus on what elements of my work are most meaningful, and gave me the confidence to set different priorities and make different choices in my work."
"This program has helped me to get more balance in my life and be happier at work."
Building on this work, Spectrum Healthcare Partners' sister company, Spectrum Management Services Company, offered a free webinar this spring on resilience. Titled "Organizational Strategies to Address Physician Wellness and Burnout," it extrapolates our lessons and successes during the pandemic in a way that other organizations can apply.
American Medical Association (AMA) Recognition
We were pleased to be recognized by the American Medical Association's (AMA) 2021 Joy in Medicine™ Health System Recognition Program for our efforts to support physician wellbeing and reduce burnout. Each organization was scored on commitment, assessment, leadership, efficiency of practice, environment, teamwork, and support.
AMA recognized 44 health care organizations as recipients of the 2021 Joy in Medicine™ Health System Recognition Program. Recipients of the award are health systems with a "demonstrated commitment to preserving the wellbeing of healthcare team members by engaging in proven efforts to combat work-related stress and burnout."
Ensuring physician wellbeing is a constant process, and one that can change shape at a moment's notice in response to events in the wider world. When we keep the health of our providers and our company culture in focus, we put ourselves in the best possible position to continue offering high-level, comprehensive healthcare to the communities we serve.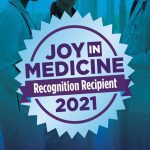 Physician Leadership Academy
Spectrum launched the Physician Leadership Academy in the fall of 2021 as a part of our larger Physician Leadership Development & Succession Planning Program. This program exemplifies our commitment to building the leadership and talent of our organization.
The goals of the program are to reinforce the culture of our organization, build self-awareness, practice core interpersonal skills, build financial literacy, and provide our physicians an opportunity to network with their colleagues.
The first cohort of physicians, representing all specialties, will complete the 10-month program in June.
Spectrum is accredited by the Accreditation Council for Continuing Medical Education (ACCME) to provide continuing education to our physicians.