In December 2019 Spectrum went live with its first electronic incident reporting system, RL Solutions. Before going live with RL, Spectrum's clinical and administrative staff relied on paper forms to be completed and sent back to Risk Management. Data capture and reporting was a challenge. Staff had to report an event to multiple people and often a key individual would inadvertently be left off a notification list. With RL Solutions Ortho South, Ortho Central, outpatient VIR, and administrative staff can log on to the system using a desktop icon. The staff member is then able to complete an incident reporting form specific to the event type (such as a patient fall, employee injury, or surgical complication), and the event is sent to the right people for follow up.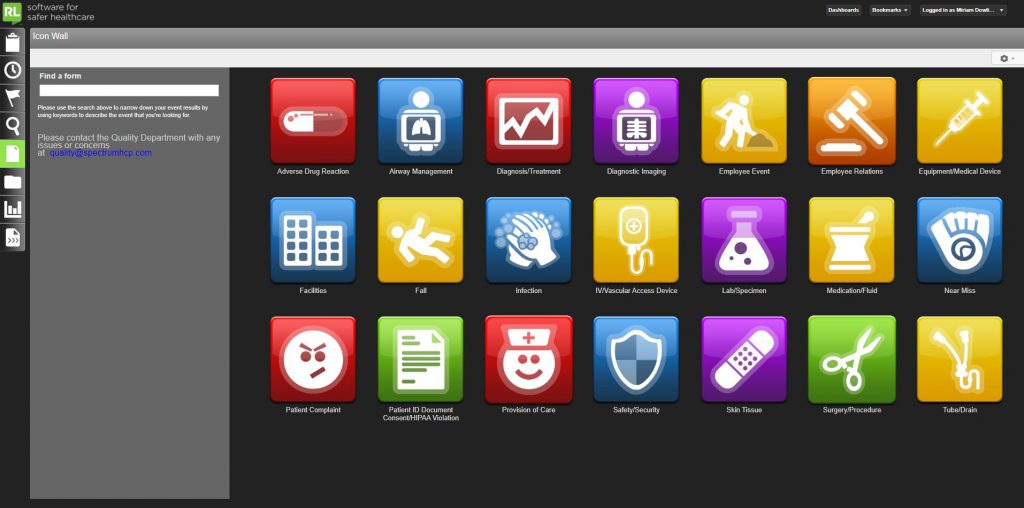 There are cons with electronic reporting systems, however. In other companies and hospitals where electronic incident reporting systems have been installed, there are a few common complaints. SHCP is working actively to take these common drawbacks seriously:
Staff may be unsure if an incident is important enough to submit

The leadership of Spectrum wants to know about patient complaints and safety incidents of all sizes, including near misses. Safety research has shown us that for every one serious safety event, there are usually up to 1000 near miss safety events where there was no harm. If we can learn from near miss events or events where there was very little harm, we can potentially avoid events where there is significant patient or employee harm.

Staff may not know if the incident they submitted is being followed up on or taken seriously

Front line managers and supervisors have been trained to follow up in person after an event as much as possible. We realize that taking the time to submit an event can be difficult, so a thank you can go a long way. Often a manager cannot give all the follow up details after an event but touching base with the person who submitted the event to them know it has been resolved can be very meaningful. RL also gives front line users the ability to see if an event they submitted as been opened, is in progress, or has been closed by clicking on the file submission tracker icon on the left-hand side of the screen

Submission forms can be long

Since we have control over the content of the forms, we can also control how many of the fields are required. We know clinical staff are pressured for time, so as much information as can be entered is helpful, but if only the required fields with an asterisk next to them are completed, someone from Quality or Risk can help fill in the blanks by reviewing patient records.
It may sound counterintuitive, but we hope to see an increase in the number of safety incidents that are reported over the next year. If we see an increase in events, we know that people are interacting with the system and trust that reporting a safety event means something will be done to prevent that event from happening again. Please contact Miriam Dowling-Schmitt or Holly Houston with any questions or concerns about the incident reporting system