According to the Centers for Disease Control and Prevention (CDC), everyone 6 months of age and older should get a flu vaccine every flu season. The CDC strongly encourages healthcare workers to get the flu vaccine since they are more likely to be exposed to the flu and could easily spread the virus. Spectrum Healthcare Partners strongly encourages all employees to receive the flu vaccine each year and will provide the vaccine free of charge. This flu season, the Human Resources and Quality Departments worked together to improve the flu vaccination process. Meg Luke, Human Resources Operations Partner, and Alyson Thornton, Quality Coordinator, met prior to the start of flu season to put a tracking process in place. Laurie Interland, a PACU nurse at OA Centers for Orthopaedics, scheduled clinics at various SHCP sites to make sure administrative staff could get vaccinated on work hours. Many clinical staff were vaccinated outside of SHCP-sponsored clinics, so Alyson and Meg had to track where vaccinations had occurred. "It took a lot of reminding to get people to send in their records of vaccination. After I received records, I would track it in an Excel spreadsheet and scan and save each form. Meg Luke would save the forms and upload into the employee medical file and date of vaccination into ADP" stated Alyson. In addition to SHCP employee tracking, Alyson kept track of Maine Medical Center and Mercy Hospital staff and communicated with Occupational Medicine at those hospitals to ensure all records were accurate. To visualize data, Ashley Quinn, Quality Operations Supervisor, built a Power BI dashboard that was connected to the Excel database. This allowed the team to breakdown the data by division to track compliance.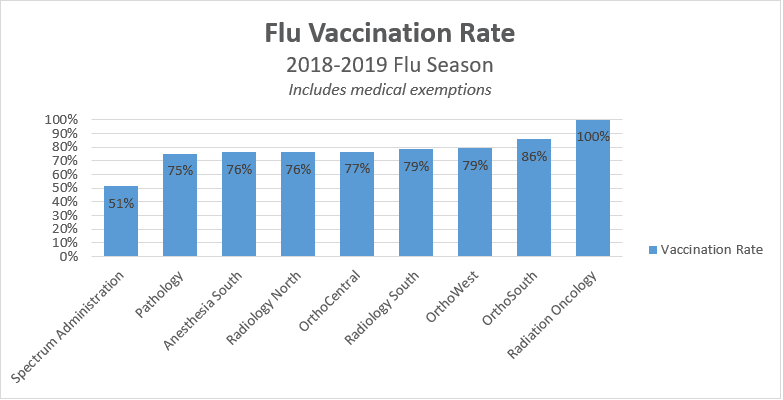 Next year the team hopes to increase compliance for the clinical divisions to greater than 90% and to greater than 75% for the administrative team.
Flu vaccine prevents millions of illnesses and flu-related doctor's visits each year. For example, during 2016-2017, flu vaccination prevented an estimated 5.3 million influenza illnesses, 2.6 million influenza-associated medical visits, and 85,000 influenza-associated hospitalizations.
In seasons when the vaccine viruses matched circulating strains, flu vaccine has been shown to reduce the risk of having to go to the doctor with flu by 40 percent to 60 percent.