One of Spectrum's 2021 strategic goals is to pilot the Change Management Playbook for the new NextGen EHR / PM systems implementation for our orthopaedics and vascular & interventional radiology divisions.
Industry statistics show 50-70% of organizational change initiatives fail to achieve their stated goals, primarily due to ineffective change management. Change management is the art and science of managing the people side of change. Since there are many complexities involved in executing a change initiative, both change management and project management are required. Both disciplines use processes, tools, and techniques to plan for, manage, and reinforce the change.
Project management is said to be 'building the ship' and change management is said to be 'preparing the crew.'
While change management focuses on ensuring the support of the people, a project management methodology, like Agile, focuses on the work tasks to be executed. When used together, organizations can more easily realize the benefits of the change initiative.
Spectrum has adopted Agile as its project management methodology. Our change management playbook was designed to work alongside Agile features and initiatives that have a change component to them.
Spectrum is using the playbook to guide the work of the EHR / PM implementation and to support all those who are involved. The change management team works closely with the project teams throughout the implementation, providing ongoing communication to keep everyone informed, aligned, and engaged in the change processes.
The change management team is being led by Julie Wheeler, CHRO; Beth Austin, VP Operations; and Jodie Ureneck, Communications & Business Development Specialist.
The team sent out periodic questionnaires to help understand the ways in which the organization can best support the implementation and change. The team also worked closely with the EHR / PM project teams on bi-weekly and weekly newsletters to support the staff through the implementation and keep staff members informed of progress made, upcoming activities, and recent accomplishments.
The change management pilot has helped define ways Spectrum can prepare for, manage, and reinforce the benefits of future change initiatives and adopt this methodology for future projects.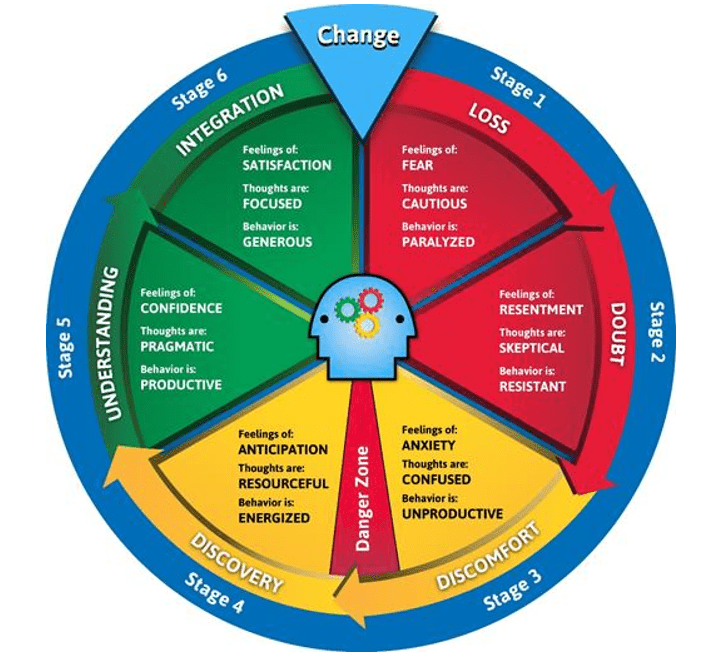 Stages 1 & 2 are red because any new experience is run through the primal brain. We are in survival mode. Our primitive brain is in charge – fight, flight, or freeze!
Stages 3 & 4 are yellow because we are not totally paralyzed but the hazard lights are flashing.
Stages 5 & 6 are green so we can put the car on cruise control as far as the change goes.
Below are the six stages of change and tools for navigating through each.