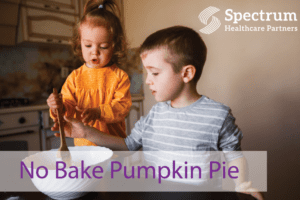 Thanksgiving is a special time for family and friends to come together and enjoy each other's company (and lots of food)! Involving kids in this tradition is easier with a make-ahead, no-bake recipe. This pumpkin pie is a great way to include your little one in the tradition. It can be made ahead to avoid day-of rushing and requires no cracking of eggs or baking! Enjoy making great memories together!
INGREDIENTS: 5.1 ounce package instant vanilla-pudding mix ½ cup milk 1 cup canned pumpkin-pie filling 1 container (8 ounces) whipped topping 1 graham-cracker pie crust
INSTRUCTIONS: Pour the pudding mix and the milk in a plastic container with a tight-fitting lid. Shake the container until the pudding is thick.
Put the pudding in a bowl. Add the pumpkin-pie filling and mix well.
Gently fold in half of the whipped topping.
Pour the mixture into the pie crust.
Add the remaining whipped topping.
Cover and freeze at least 2 hours. Then serve and enjoy!